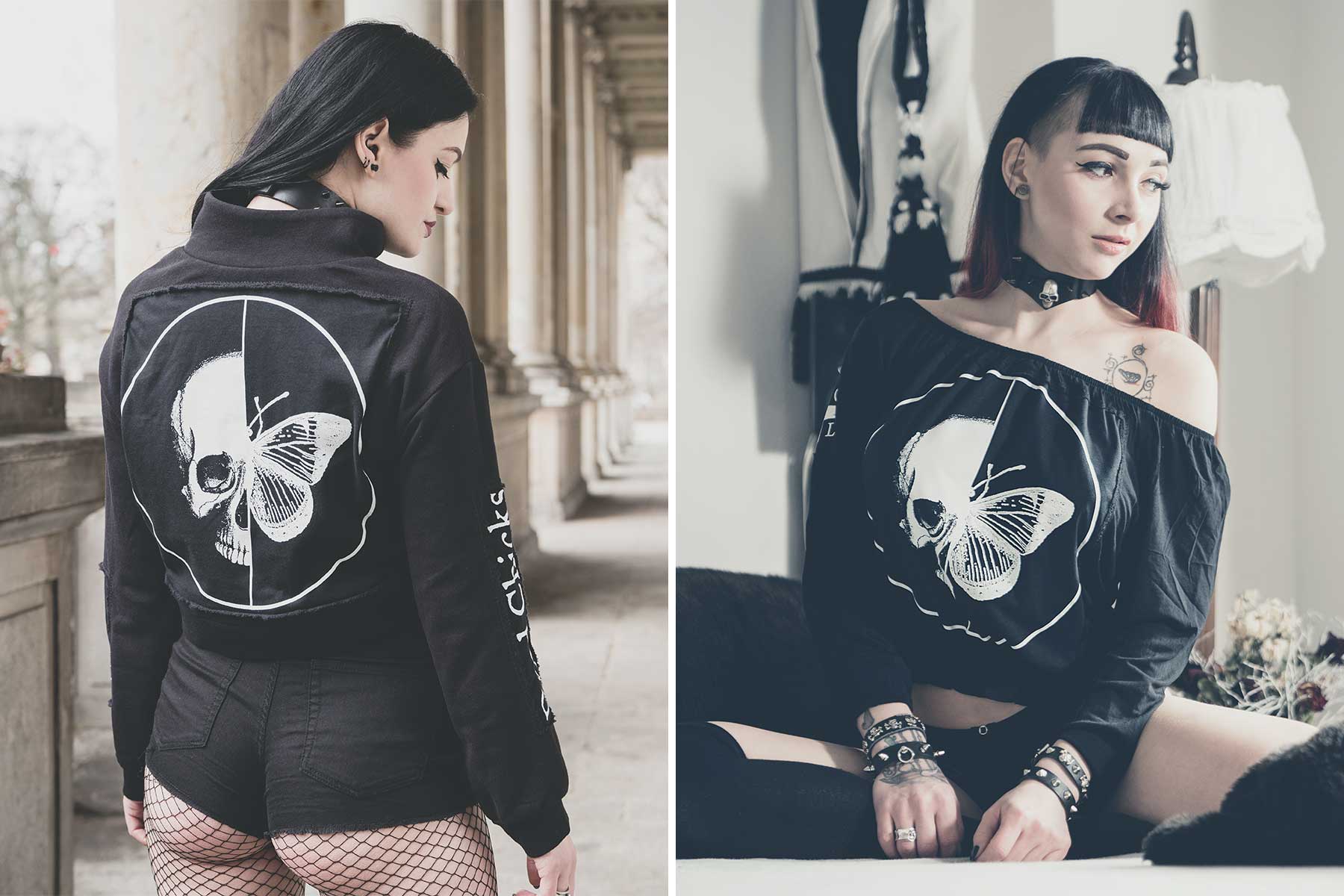 We know it's starting to sound like a story nobody really believes. The Dead Chicks have been talking about it for so long, they're not doing anything. On the one hand, you are right, but on the other hand, it is much more work than we expected. Here we give you a little insight today, what we are planning now and where you can still have a say at the moment.
In the meantime, we had already announced a year and a half ago that we wanted to work and do something, but somehow it always didn't quite work out. Sure, we weren't really on our toes, had xxx other things that we had to work on, and so on. In the meantime our logo was already available in a merch store, but not really from us yet.
We had to come up with our own ideas
So we had sat down, looked for artists and started from scratch. Rework the logo, add a Dead Chicks font, first motif, and so on. The Belgian artist Bram Bruyneel, who had done the first work for us (----> his Instagram channel), helped us with all this.
But somehow we didn't want to leave it at this only one, so we looked for another style, finished our comic motif and so on. Of course, our colleague Covid-19 also punched us hard, but nevertheless we can let you vote about our first works now. Of course, there will be more things added in the course of time, but it would be a great help to us if we knew what you would like to have.
But before we now have everything in stock and order we would like to know first of all: What kind of merchandise would you want from us anyway? Since we have to get everything out of our own pockets, we don't want to do anything you're not interested in.
Just one more request: Please only vote for what you really want to have. This will help us to judge at the end what is really cool and what we should think about! Thank you!
Question 1:
What kind of merchandise would you buy?
Question 2:
What color is your favorite Merch?
Honestly, most of us would like to have our merchandise in black. Cooler contrast, usually brighter colors and what else do you want to wear as a child of darkness, right? Well we agree, often it's the same, but especially now that summer is coming you can wear something different and every now and then a motive on a white or more colorful shirt looks a bit better. What do you think?
and last but not least, question 3:
What motives would you want to have?
As I said, these are our first ideas. There will certainly be more stuff to come, a few will probably fall out the back, but hopefully in the end there will be 2-3 that you want to have.
A few more words at the end
Currently, we are also looking for a manufacturer who makes things with a good quality. We already had an excellent one, who also does the merch for some well-known metal bands, but unfortunately, the consequences of Covid-19 hit him hard and he could not give us any firm promises yet. So the search goes on.
Soooooo, that was it for now. If you have any suggestions and/or ideas for improvement concerning the motives, please write us a message under "contact". We are looking forward to it!